Ok so you here bacon and chocolate and it is like WHAT? But it seems the world is ready for this kind of thing. You hear about chocolate dipped bacon and bacon cookies and all sorts of desserts that now have the most amazing piece of meat that exists thrown into it. Of course, I was skeptical. I mean bacon in a dessert? This month's Crazy Cooking Challenge was the find the ultimate chocolate chip cookie. I wanted something really unique. Not just your ordinary cookie. I found this cookie at
Craving Chronicles
and knew it was something I had to try. Now the rest of my family wasn't so sure about this idea. My husband couldn't believe what I was doing and felt it was just wrong. My 4 year old daughter thought it was by far the greatest thing she had ever heard of. I actually just laughed as I ate these. I wouldn't say they were the best cookie I've ever eaten but I really had fun making it and trying something new. My daughter on the other hand has found her favorite cookie for life.
Also this is a great blog that I really enjoyed reading. Theresa loves baking and photography. I really enjoyed not only looking through her recipes but loved seeing the pictures she has taken as well. Her photographs truly are amazing, her food pictures are just so vibrant and really make you want to run into the kitchen to recreate the things you are seeing.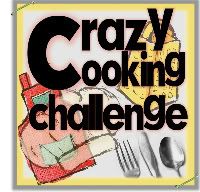 Bacon Chocolate Chip Cookies
Adapted from Craving Chronicles
2 cups minus 2 tablespoons (8 1/2 ounces) cake flour
1 2/3 cups (8 1/2 ounces) All-Purpose flour
1 1/4 teaspoons baking soda
1 1/2 teaspoons baking powder
1/2 teaspoons coarse salt
2 1/2 sticks (1 1/4 cups) unsalted butter, room temperature
1 1/4 cups (10 ounces) light brown sugar
1 cup plus 2 tablespoons (8 ounces) granulated sugar
2 large eggs
2 teaspoons natural vanilla extract
2 1/4 cups bittersweet chocolate chips
6 slices crisp cooked thick cut bacon, chopped
1/8 c. maple syrup
In a medium bowl, whisk together flours, baking soda, baking powder and salt. Set aside.
Using a mixer with paddle attachment, cream together butter and sugars until light and fluffy, about 5 minutes. Add eggs one at a time, incorporating completely after each addition. Add vanilla. Reduce mixer to lowest speed and carefully add flour mixture. Mix until just combined. Fold in chocolate chips by hand. Cover dough with plastic wrap and refrigerate 24 – 36 hours, up to 72 hours.
Pull dough out and allow to come to room temperature. Meanwhile dice bacon and come until golden brown and crispy. Add in maple syrup and stir allowing the syrup to reduce. Allow candied bacon to cool. Preheat oven to 350°F. Line baking sheets with parchment paper. When dough has warmed enough to be pliable but not too soft, fold in chopped bacon. Using a 2 tablespoon cookie scoop, measure 8 cookies out on a baking sheet. Bake one sheet at a time, 10-14 minutes or until edges are starting to brown. Cool 2-3 minutes on baking sheet, then transfer to a wire rack to cool completely.