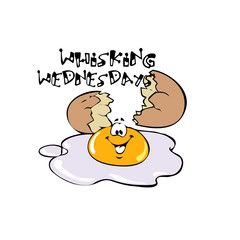 Welcome to Whisking Wednesdays!
What a week here. We had an earthquake then a typhoon barely missed us. It is super windy out and has been raining on an off all week because of this storm. It is my son's first birthday tomorrow, though we celebrated it yesterday because of my husband's long 12 hour work days and he was off work yesterday. We had a ton of fun. Both my little ones are sick though so that always sucks. But I've been in the kitchen cooking up a storm which always puts me in a good mood.

The top three from last week's Whisking Wednesday are below. You are welcome to grab a feature button if you'd like. Thank you all for visiting and sharing your recipes!
Did you say stuffed? A stuffed cinnamon roll with cookie dough and chocolate all in one? I mean cinnamon rolls, you can't get much better than those but then adding cookie dough and chocolate all into the same recipe!
YUM! Peanut butter, chocolate and rice krispies. These look awesome. Reminds me slightly of a childhood recipe my mom made except it was peanut butter and butterscotch in the base. Gonna have to make my variation of these this week in honor of my mom now that I've seen these.
These cupcakes look so refreshing. Or maybe it is because lemonade is so refreshing it makes me think these have got to be refreshing. What a wonderful summer cupcake, raspberries and lemonade. I love lemon in everything so I'm sure these are amazing.
Please link up to the URL of your post, not the URL of your main blog. When it asks for "Name", type in the name of your recipe.

Please leave a link back to this post in your post or Grab My Button

.

Share your delicious recipes from this week. You are welcome to link up multiple recipes.

Leave me a comment and let me know that you've linked up.

Please visit at least two others and comment on the goodies they've added to this party.

Also, I would love for you to follow me but it isn't a requirement.
This weeks theme is going to be just your favorite recipe you've made from the week. Whether it is a dessert, breakfast, dinner or snack.