So this month's Crazy Cooking Challenge was Mashed Potatoes. I wanted to do something different. Mashed potatoes usually have a ton of sour cream, milk and/or butter in them. I wanted to do mine without all of this. I wanted to see if you could really make a good mashed potato with absolutely no dairy whatsoever. So I decided on a dairy free garlic roasted mashed potato recipe from
Heart Hands Home
. This blog has some great recipes on it and I really enjoyed looking around her site. These potatoes were also really good. Everyone in my house ate them and I didn't even receive a single complaint. I think the roasted garlic gave the potatoes such amazing flavor that it was hard to notice you didn't have your normal amounts of butter or cream added. I'd definitely make these again.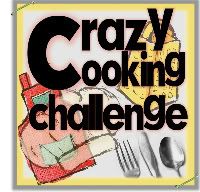 Garlic Roasted Mashed Potatoes

1 head of garlic
2 tbsp. olive oil
1/8 c. chicken stock
1/4 c. dairy free butter
3-4 medium potatoes
Salt & Pepper



Preheat the oven to 400 degrees. Cut the bottom off of the whole head of garlic to expose the bottoms of all the cloves. Place in aluminum foil and add in olive oil and salt and pepper and seal. Roast for about 45 minutes or until very tender. Squeeze out the garlic, mash or chop a bit and set aside. Peel and cube the potatoes and place in a saucepan of cold water and add salt. Bring to a boil until fork tender. In the meantime in a small saucepan heat the chicken stock and leave on low. Drain the potatoes and add in the butter and garlic and mash. Slowly add the stock in bit by bit so you get the consistency you want instead of pouring it all in at once. Add salt and pepper to taste and viola!